Online Workshop: Modus Vivendi and Post-Sovereign Legitimacy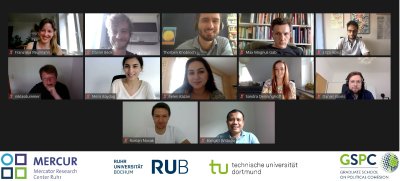 The GSPC successfully hosted a workshop on Modus Vivendi and Post-Sovereign Legitimacy with Prof. Dr. Enzo Rossi, associate professor in the Department of Political Science at University of Amsterdam on June 16th, 2021.
After a short welcome address by the GSPC's managing director Daniel Beck, our PhD candidates and organizers of this workshop, Thorben Knobloch and Franziska Paulmann introduced our guest.
Prof. Dr. Rossi claimed that most theories of legitimacy are unable to tackle current political challenges stemming from a legitimacy deficit of states, e.g. due to globalization. While most approaches take the modern state as the paradigm of legitimate authority, he argued that with his own approach of conceptualizing legitimacy within the framework of a modus vivendi, one could understand states as being on par with other forms of political organization; analyzing state legitimacy from the perspective of a modus vivendi would justify the state's powers due to its provision of the conditions for coordination among internally legitimate sub-state units. Within such a framework, the state would no longer have to be understood as a sovereign authority. Instead, the provision of stability and a variety of motivational reasons could justify state powers without necessarily granting the state supreme authority or legitimacy.
Thank you again, Prof. Dr. Rossi, for joining and discussing your ideas with us!
Contact