Workshop: Political Cohesion and Societal Division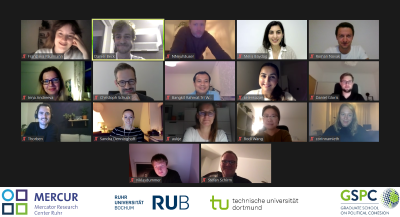 On the 19th and 24th of November, the GSPC hosted a virtual workshop on Political Cohesion and Societal Division.
Part I of the workshop began with Prof. Dr. Jan-Werner Müller's keynote on Conflict and Cohesion in Contemporary Democracies. He argued that in democracies, the task is not to avoid conflict altogether, "but to be more alert to a basic distinction between democratic and un-democratic forms of dealing with conflict."
The second keynote for the day was held by Prof. Dr. Constantin Goschler on Societal Cohesion and Divisions in Germany since its Reunification. He discussed the remaining regional inequalities of East and West Germany in relation to political cohesion.
In part II, several of our PhD candidates had the opportunity to lead an in-depth discussion on a specific topic within their project:
Thank you to our guests as well as to our PhD candidates for your contributions. We are looking forward to the next workshop!