GSPC Opening Workshop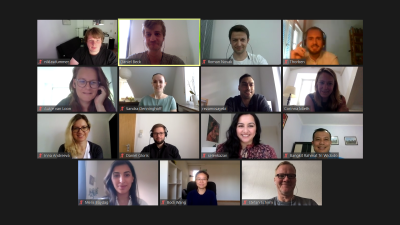 To begin to tackle the broad and important core questions that underlie the concept of political cohesion, our first workshop was designed to introduce the participants to the perspectives of their fellow PhD-candidates on the topic at hand. Over the course of two days, they presented their projects and discussed open questions with our faculty and guests.
After a welcome address by Dr. Gunter Friedrich (Director of Mercator Research Center Ruhr), Prof. Dr. Christoph Schuck (Spokesperson of the GSPC) briefly outlined the objectives of the GSPC. We seek to provide our students with a combination of academic freedom and guidance by embedding them into the structure of the GSPC. This ideal is underscored by giving them access to their own budget for travel expenses related to participation in academic events, research visits, or inviting visiting fellows. Aside from that, it is our aim to contribute to the academic and societal debate on political cohesion from both philosophical and political science perspectives, while maintaining a strong international focus. Building on that, our Board of Directors outlined and briefly discussed identity, justice, participation, and security as the four dimensions of political cohesion.
Our PhD candidates then had the opportunity to present their individual projects, while the other participants contributed to the discussion with questions and suggestions. For a full list of our candidates' projects, click here.
Thank you to our guests Dr. Gunter Friedrich, Dr. Reza Mosayebi and Dr. Aukje van Loon for your valuable contributions!
After this successful start of the GSPC, we very much look forward to developing and deepening our understanding of political cohesion in our upcoming workshops.
If you want to know more about us, please feel free to contact the management of the GSPC.